Challenge: Track Your Target Audiences
Mount College University Continuing Education offers programs and services that help learners gain new skills for their current workplace, as well as next job or personal development. Besides promoting its Fall enrollment, the University wanted to determine where their potential students originated from so the university was able to target future groups more effectively.

To capture students who tend to be on-the-go, the campaign's engagement needed to be simple, accessible, and trackable.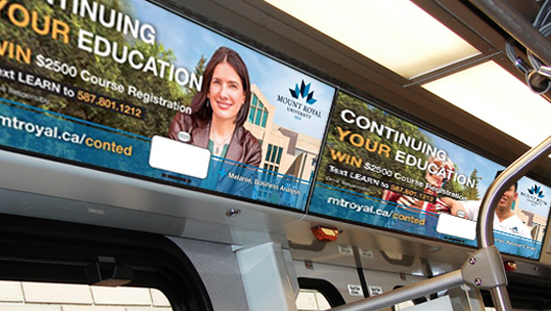 Solution: Know Your Target Audiences
After some inquiries, Mount Royal University discovered that MODISclub's SMS turnkey platform would provide them the speed, flexibility and results they are looking to achieve— and within their limited budget.

First, a contest with a $2500 tuition upon registration prize was initialized to target potential students with an interest to go back to school. Then, the chosen entry method was a Text-to-Win campaign to reach the widest audience.

MODISclub's online SMS platform provided the University the complete solution for running a Text-to-Win campaign, from registering an SMS number (long code) to setting up unique SMS Keywords for contestants to text to enter. Each Keyword could also set to automatically send out a custom message with web or mobile site links for extra rich content experience.

The option to select a local SMS numbers not only ensured the widest and most dependable cell coverage, each text entry would be just a standard text message with no premium charges—a factor that might affect the response rate.

Additionally, to track the various communities' response rates, the contest was strategically promoted at Transit LRT Stations and on Bus Tail Posters, as well as Social Media, with different SMS Keywords per region.

As the entries flow in over a period of time, useful data of the target audiences, such as area code, traveling routes, time and dates were also captured on MODISclub's secured online SMS panel, accessible by the University's administrator at anytime.


Results: Reach All Your Audiences
The Text-to-Win campaign generated thousands of text entries within a year. MODISclub's dedicated SMS number system ensured those who did not text in the Keyword correctly were also captured.

At the end of the contest, Mount Royal University drew applicants from unexpected parts of the city, demonstrating the exceptional reach of Out-of-Home Advertising. Additionally, the Text-to-Win campaign also generated a permission based mobile database for the University to carry out supplementary research, data mining, and promotions.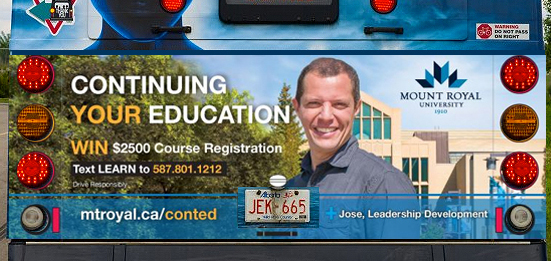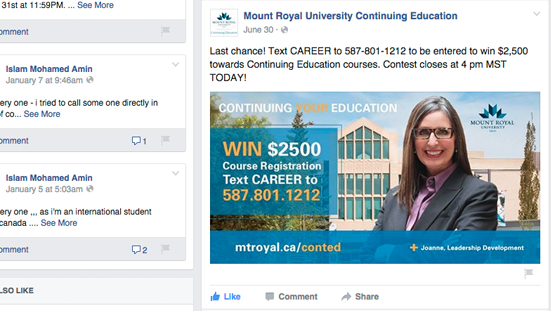 Other similar brands who have used MODISclub's Text-to-Win
Read More