Challenge: A Direct Reach to the Widest Audience
With thousands of employees under the hotels and resorts' brand, Marriott needed to create a simple way for managers to connect to their staff, using technology and facilities available to the widest audience.

Marriott employs a wide range of professionals and workers as their support staff in their day-to-day operation. To schedule and manage their full-time, part-time, and seasonal shifts has never been an easy task. Rescheduled appointments, dropped or empty shifts resulted in lost time and revenue for the company. When the time came to upgrade to a more effective communication system, Marriott found MODISclub' SMS platform easy for managers, as well as staff to adopt because of the medium's ubiquity. With minimal training required, Marriott managed to switch to an SMS based reminder system within days.


Solution: 2-Way SMS Functionality
Without the need of any IT developers, Marriott's managers uploaded and organized their staff cell numbers in various groups within minutes, using MODISclub's FREE online SMS management tool. With a two-way communications function online, Marriott managers could easily push out shift openings to mass groups on demand, and directly engage in two-way conversations with them by text message.

Moving forward, new employees could conveniently be added to the contact list by directly texting a specified Keyword (eg. MARRIOTTYYZ, MARRIOTTYYC, MARRIOTYVR) to Marriott's dedicated long codes (SMS numbers). The system would automatically manage the opt-in and -out process.


Results: Increased Productivity
Not only does the online SMS scheduling reminder and update tool helped eliminate slow response time or no-shows, it functioned as a timesaving tool by streamlining administrative work that was previously done till the last minute. The two-way SMS communications capability also allowed Marriott to gather employee feedback efficiently, thus enhancing employment services and brand loyalty.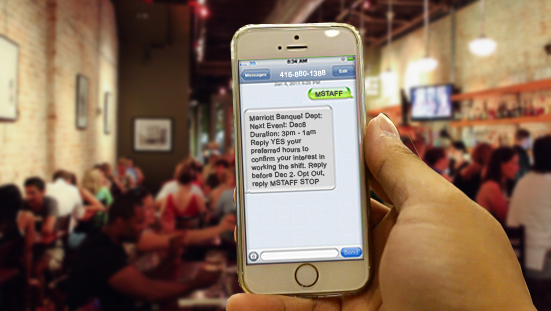 Other similar brands who have used MODISclub's Text Notification System