Challenge: Putting Offers Into Customers' Hands
Wonton King wanted to focus on what they do best—selling food that will make their customers happy. As media trends keep evolving, their customers' expectations of service are also changing. So, Wonton King ditched the Yellow Page ads and turn to MODISclub to deliver a next-generation customer communication experience.

They heard from their customer that one-third of them—and growing—prefer texting as their communication channel. And with a growing number of stores opening up across the city, the restaurants also needed to update their communications system in order to reach more new customers, track coupon redemptions, and scale their quality of customer service.


Solution: Boosting Redemption Rates
Wonton King chose MODISclub because of the easy and quick setup process, as well as the flexibility of the self-serve SMS system. It took Wonton King only 2 days to setup their mobile coupons and promotional system in time for various promotional events and in-house campaigns.

First, they chose a MODISclub SMS number (long code) used for delivering their two-way text messaging with customers. Then, Wonton King setup a branded SMS Keyword (eg. WONTON) to be used in Text-to-Win and VIP campaigns to track the effectiveness of different ads, and to generate a preferred customer list.

With MODISclub's automated system, Wonton King was able to self-customize the auto-response function with an instant reward coupon for each customer who texted the specified Keyword at various venues. Additionally, marketing managers could also choose to control the number of coupons that get texted out, and to whom they want to send more subsequent offers, allowing the restaurants to manage restaurants' capacity which could affect their quality of service.

Timing is everything. So, the time of day promotions got sent out was observed and analyzed by the restaurants to incrementally improve redemption rates. To anyone familiar with the headaches of traditional coupon clippings, SMS coupons provided more convenience, accessibility, and eco-friendliness. Each text coupon could also be tracked by embedding a unique promo code to be processed at the point of sales.

One of MODISclub's important customer service feature is SMS feedback. Customers could be encouraged to conveniently reply to Wonton King's dedicated SMS number with their feedback and comments, invaluable data to the business.


Results: Happy Customers
Wonton King's focus has always been on their customers. By implementing a long term mobile marketing strategy with MODISclub, Wonton King has been able to grow and retain their next generation of customer contacts.

The metrics and analytics collected through a few simple SMS campaigns have given the business a real boost.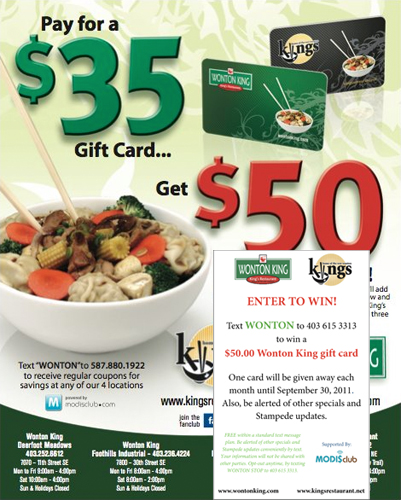 Other similar brands who have used MODISclub's Text Coupons & SMS Promotions