Challenge: Getting People to Fill in Surveys
GlobalFest burst onto the scene in 2003 with 10 cultural pavilions and three countries presenting pyromusicals in Calgary's very own international fireworks festival. The festival reached attendance of close to 100,000 in the very first year, making GlobalFest one of Calgary's top draws for local citizens and tourists alike. As the festival grows in attendance, communicating with large groups of people became a challenge. They saw a drop in their surveys conducted by volunteers with paper ballots. So, when Globalfest needed a more efficient and effective way to communicate with fans at live events, the organization knew text messages were the way to go.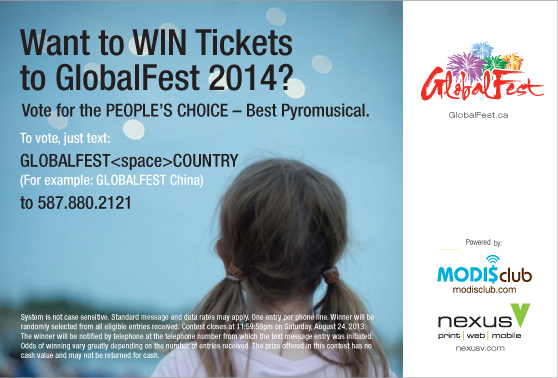 Solution: Experiences On Demand
Globalfest chose MODISclub because of our all-in-one solution platform. By integrating MODISclub's text messaging suite—which included Text-to-Vote, Text-to-Win, and Text Survey—into its fan experience during the fireworks competition, Globalfest created a mobile marketing machine. The best part? The whole thing was up and running in a matter of days.

MODISclub's Text-to-Vote and Survey solution allowed Globalfest's fans to conveniently text the country's name of their favourite fireworks to a dedicated cell number (SMS long code) with no app to download. The vote would then initialize the survey component seamless by automatically sending short questions allowing the voters to respond back immediately via text. By combining the mobile survey with the Text-to-Vote campaign, Globalfest saw a surge in the survey participation rate.


In the past, voters could only vote on a sponsor's website, and at live events, that was a challenge for many people who did not have data plans on their phone. Another difficulty and frustration with voting on the non mobile responsive website was for the voters to find and navigate to the voting section.

Additionally, the Text-to-Win festival passes contest was introduced to create even more buzz around the mobile campaigns.


Results: Real-time Surveys
With MODISclub's real-time communications system, not only did fans got to easily experience being part of the fireworks competition selection process, the organization managed to reduce the weight on their staff and volunteers having to collect and process the printed surveys. From the three-in-one campaign, Globalfest achieved their goals of collecting valuable feedback about their fans' impression on the festival and how they could improve each year.

On top of that, the opt-in database collected from the campaigns could be used for many future projects, including cross-promoting businesses in the cultural pavilions and sponsors through Text Coupons and Promotions, Text-for-Info, Text for VIPs, tickets, invites, and more. With over 90,000 hits on the web link provided in the final survey text message, Globalfest could now easily monetize and fund its future growth.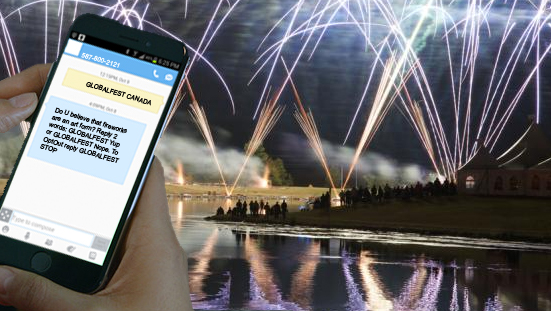 Other similar brands who have used MODISclub's Mobile Survey System
Read More